Publications from joint projects
Joint activities with partner organisations

The AGRICA project collaborates with a wide range of different partner organisations, aiming to share and exchange information and knowledge regarding climate risks and adaptation, particularly in the agricultural sector and with a focus on sub-Saharan Africa. This also includes the joint or supported development of other knowledge products based on the AGRICA products, for instance through the development of similar Climate Risk Profiles (CRPs) which are expanding the regional focus or highlighting different sectoral priorities.
---
Climate risk profile for Pakistan

Together with GIZ Pakistan, Pakistan's Ministry of Planning, Development and Special Initiatives and a variety of local stakeholders, PIK has developed a climate risk profile for Pakistan. Pakistan is rated as one of the most vulnerable countries to the impacts of climate change. In particular, the agricultural sector is likely to feel these impacts through increasing temperatures as well as more frequent and intense droughts and flooding. The climate risk profile places a focus on this sector, in particular on the yield development of maize, rice and wheat. It also follows a stronger geospatial approach through the inclusion of additional maps.
Climate Risk Profile Pakistan (Download)
Supplemental Information (Download)
---
Collaboration with the Weathering Risk project
Weathering Risk is a multidisciplinary climate security initiative which is co-led by PIK and adelphi, uniting state-of-the-art climate impact data and expert knowledge on conflict and security issues to provide analysis, capacity support tools, dialogues and training to promote peace and resilience in a changing climate. As part of this initiative, Weathering Risk is developing a number of climate risk profiles, including for Somalia, Iraq and other countries. The climate impact projections are derived from the collaboration with the AGRICA project and are critical for the analysis of context-specific climate security risks.
Climate Risk Profile Somalia (Download)
Climate Risk Profile Iraq (Download)
---
Climate risk profile for the Sahel under UNHCR's Predictive Analytics project
Under UNHCR's Predictive Analytics project, PIK developed a climate risk profile, which spans ten Sahelian countries and provides a comprehensive analysis of climate impacts and risks in the region. The Predictive Analytics project aims to enhance coordination on data and strengthen preparedness for the growing and interconnected risks in the Sahel. It addresses risks at the development, humanitarian and peace nexus by working on key drivers of vulnerability, with a particular focus on how climate change and other trends contribute to new or exacerbate existing risks in the region. The Sahel Predictive Analytics project supports the United Nations Integrated Strategy for the Sahel (UNISS) and the work of the UN Special Coordinator for Development in the Sahel.
Climate Risk Profile Sahel (Download)
---
Collaboration with the SLICE project

In the SLICE project, Climate Analytics and the ifo Institute are investigating short- and long-term impacts of climate extremes and aim to develop a systematic understanding of the channels through which climate extremes impact socio-economic development from the household to the macro-economic level. As part of this project, three climate risk profiles are currently being developed in collaboration with PIK, which provided data and figures for projections. Countries include Nigeria, the Philippines and Malawi.
Climate Risk Profile Malawi (Download)
Climate Risk Profile Nigeria (Download)
Climate Risk Profile Philippines (Download)
Supplementary Information (Download)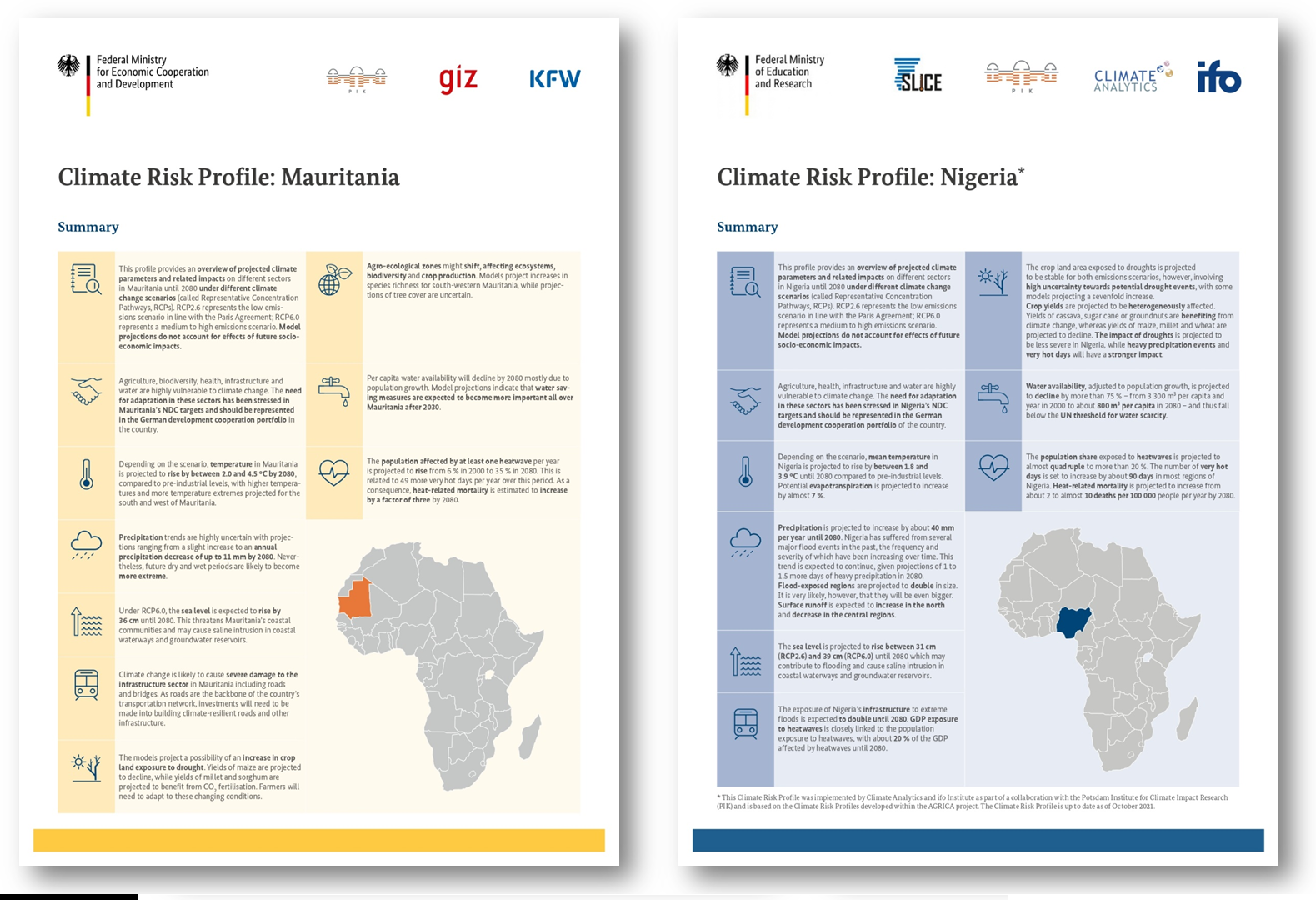 ---
Development of further climate risk profiles
Since their publication, AGRICA's CRPs have received very positive feedback from a variety of stakeholders, including the governments of partner countries, international organisations, research institutes, civil society and the private sector. Furthermore, various organisations have expressed their interest in expanding this series to other countries – both on the African continent and beyond.
Against this background, PIK has developed a style guide for the development of further CRPs and is gladly inviting interested organisations to jointly develop CRPs for countries, which are not yet covered by other profiles. The style guide aims to establish quality standards and ensure comparability with the existing CRP series. Additionally, a joint collaboration offers interested organisations access to PIK data as well as to an established platform for presenting the final results.
For more information on the joint development of CRPs, please consult the style guide.
If you have any questions or are interested in collaborating with us, feel free to get in touch with Julia Tomalka (tomalka@pik-potsdam.de).